Why?...
Well just look at this poor little simple guy that finds the best in everything. He loves his job and does it diligently, he savours simple human trinkets and cares for his pet Roach (I mean come on, would you take a Roach for a pet alone actually feed it???, NOT!!!).
WALL-E has enough curiosity to kill every LOLCat on this planet yet he is the only romantic left on a Dying Earth devoid of Humans and he Loves Musicals to boot!!!... What more could you want from a story that tells US of what will happen because we became so lame that taking care of the Planet that gave US Life and Sustains US so far will actually survive no matter what we do to destroy it and we will more than likely this time be the ones that future alien explorers and scientists find as Fossils... Earth will survive without US and WALL-E's lucky enough to find Love along the way...
What more could you want from life or a great movie???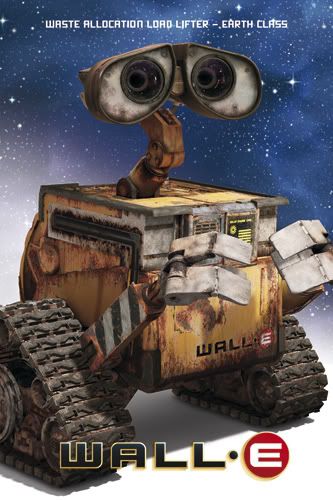 More later...
Labels: earth, eco, green, save the planet, wall-e