Guess What I Have Been Playing???, Come on Guess!!!
Well!!!!!!!!!!!!!!!!!!!!!!!!!!!!!!!!!!!!!!!!!!!!!!!!!!!!
It's Rise of the Triad 2013 or ROTT for all us Old School Gamers, this is the remake of the original DOS Game that was suppose to be the an expansion pack for Wolfenstein 3D titled "Rise of the Triad: Wolfenstein 3D Part II"...
First I have to say it's 'Well' worth the price of $14.99, in FACT!!! it's a Steal at this price... I would buy and download from: Good Old Games. So on to what I know...
I Love It!!!!!!!!!!!!!!!!!!!, It's not Fast Paced as the games of today or has the Glorious, Shiny, Polished, Flamboyant, Story Lines and Enemies but it has the feel of the original in every way... You want DOG Mode, well it's got it!!!!
I had to tweak my Graphics Settings to make it more playable on my machine and don't forget to get the 'Patch' for the game... I'm still at level 3 or 4 I think, I got Stuck... Hahaha But I will Finish it!!!! If your inclined Go Get It!!!!!!!!!!!!!!!!!!!
Last Words: It's just fun if that's what you want, puzzles to solve and bonuses to acquire with some puzzles to solve to get to the next level (At least for this old guy)...
Just like the the old days my friends...
Shame on you 3D Realms
Suing Gearbox over a game that you couldn't produce in like what? 13-years!!!!!!!!!!!!!!!!!!!

What the Hell is up with that??? Where did all the money you got for saying you were gonna come out with Duke Nukem: Forever go???

This just confirms my belief that the only thing this world revolves around is MONEY and who can get the most of it... What a sad state we are in for sure...

I Hate When Life Gets in the Way of Things
We are now in our 8th year!!!!!!!!!!!!!!!! Time has been flying for sure and I haven't been playing video games at all...

Hopefully this winter I can get back to working on the site and since I have LifeTimeGamer.com I might move this site to that address before starting a new site...

Of course we all know who has prior art and began LifeTime Gamer in 2004... I Did!!!! hahaha


I hope all of you are doing well and keep on Gaming!!!!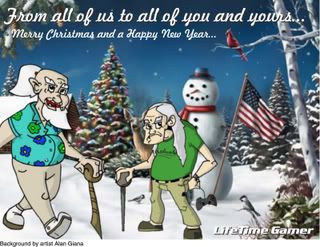 Well It's Been Like Almost 7-Years for Lifetime Gamer...
Interesting it took something else to jog my mind about how long we have been here...

Bad thing is, I only got a little ways through Duke Nukem Forever and I kinda can't get myself to even click that familiar Icon on my desk top I have seen since the game was shipped to me and I installed it...Granted I have been doing things other than video games but Duke has been the biggest part of my Video Gaming Life since the very 1st side scroller came out...

Whoa is me, Whoa is me... I am hating going through the 'Hive' part of the game as I 'CHEATED!!!!!!' I watched a few of the Walk Through Videos on you all know where... In Duke 3D I kinda didn't like that and in this version I still don't...

O well I think this week I will fire the game up again and try to get through more of it or maybe not...

I will leave you with this, I think the price I paid for the game even tho it is Duke Nukem was about $20 to much for a game at that level these days, even if they do give us some good downloadable content...

Hail to the King Baby...

See all of you soon...






A Little Shrinkage Never Hurt Duke Nukem.
Brings back some memories for sure... hahahaha
Enjoy!!!!
Labels: carnage, Duke Nukem, video game
What's It Gonna Take to Play Duke Nukem Forever on Your PC?
Well looks like I'm good to go, tho I'd like a bit better Video Card... Money always seems to get in the way of having fun, hahahaha...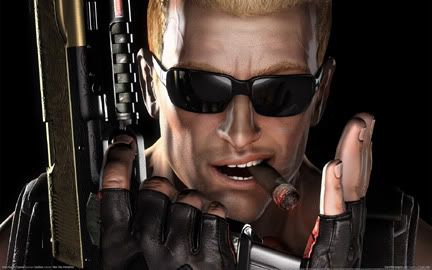 Minimum Specifications
OS: Windows XP/Vista/7
Processor: Intel Core 2 Duo @ 2.0 Ghz / AMD Athlon 64 X2 @ 2.0 Ghz
Memory: 1 Gb
Hard Drive: 10 Gb free
Video Memory: 256 MB
Video Card: nVidia GeForce 7600 / ATI Radeon HD 2600
Sound Card: DirectX Compatible

Recommended Specifications
OS: Windows XP/Vista/7
Processor: Intel Core 2 Duo @ 2.4 Ghz / AMD Athlon 64 X2 @ 2.6 Ghz
Memory: 2 Gb
Hard Drive: 10 Gb free
Video Memory: 512 MB
Video Card: nVidia GeForce 8800 GTS / ATI Radeon HD 3850
Sound Card: DirectX Compatible
OTHER REQUIREMENTS & SUPPORT
Initial installation requires one-time internet connection for Steam authentication; software installations required (included with the game) include Steam Client, Microsoft DirectX, Visual C++ 2005 Redistributable (ATL), Visual C++ 2008 Redistributable, and AMD Dual Core Optimizer. (AMD optimizer required only for specific AMD processors to run the game correctly, but installs for all of them.)
Counting down the days now....
Labels: Duke Nukem, pc, video game
LifeTime Gamer™ & All Written Content, Copyright Keith L. Dick 2004-2020 LifeTime Gamer Character(s)™, Keith L. Dick & Chad "MrHead!" O'Malley