Do you hate those sites that just can't seem to get enough of just doing a "
The Week in BlahBlah.com
" on Friday, cause they think most of us are too lazy to surf the site cause we are busy with our jobs, family, sex, drugs, video games, love of chocolate, food, making money and those other little secrets that we tell no one?
Now they so deem it necessary have to do a "
Today in BlahBlah.com!
"
WTF!!!
First off, "The Week
IN
", "Today
IN
?"... Shouldn't it be
ON!!!!
as in a online website?, also as in you have to get "On The Internet" to be able to view it... This is not an Actual Magazine that you have to look through the pages and buy at the local market or newstand for crying outloud... Anyways for me it's relaxing to take my time and look around a website I'm interested in rather than just hit the highlights if I've had a tough day...
Oh well such is me...
Ahh now for some new Gaming sites I found...

Video Game Media
is a cool new site that I just ran across and is adding some new features that I haven't seen on any other sites in this format, like: Latest Ticker tape news items, Stock Quotes, Press Releases (ya I seen this on other sites), Latest Screenshots (yup seen that one), Previews (also Yep)... But they do seem to have all of it on one site which is very nice so it's worth checking them out for sure...
Sooooo Checkie this Linkie:
Video Game Media
...
Another cool site I found is:
GAMERDEALS.net
... Which is a site dedicated to finding Gamers the best online Deals they can, tho I'm not sure it it is run by any real gamers... None the less it's worth checking out so Clickie here:
GAMERDEALS.net
... Another kinda related site tho I do not know that for a fact is:
dealnews.com
where you can find deals on all kinds of Computer & Electronic Items that will surely empty your wallet and max out your credit cards before ya know it...
Last but not least, how do you feel about all those LOLCats pics?... Love 'em or hate 'em?
I think they are kinda funny so I wanted to expand on this Internet Craze with my own idea, slightly taken from the original...
Sooooooooo Ladies & Germs I present to YOU!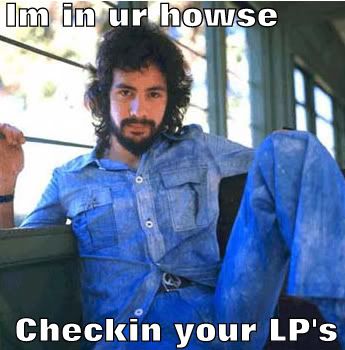 LOLCat "Stevens!"

"

At least I present him to most that even know who he is (He wrote some great songs way back when for you that don't know)... hehehehe I found the pic on Google so it belongs to who ever it belongs to, I just added my words to it...
From all that I have read of the man and enjoyed from all of his songs over the years:
Cat Stevens
(aka: Steven Demetre Georgiou) and now known as:
Yusuf Islam
has taken a journey that most have not, but still the music he gave us and from what I understand he is still giving is very well worth a listen...
You can find his Website here:
Cat Stevens/Yusuf Islam
...
Enjoy...
More later...
Labels: cat stevens, games, lp, music, radio, today