From all of us here at LifeTime Gamer to you and yours, we hope you have the best Christmas and have a great New Year...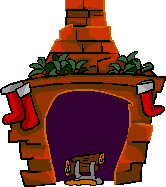 Visit
LifeTime Gamer Arcade
and play a few of the Christmas Games a long with all the new ones we have added... My new fav is
Fred Claus: The Sleigh Race
... Kinda based on the new movie
Fred Claus
...
If you need a Holiday Laugh, a MyBlogLog friend
Crazy Aussie Bastard
has a great Calendar for you to view... Enjoy the
Krispy Kreme 2008 Calendar
... hahahaha
Demystifying doctor speak, old wives' tales
... Sure why not?... If your interested in what is a "
Hasselholf
" and a few other strange terms and lot's of other things that seem to be De-Mystified then clicky the linky:
Yep, you asked for it!
...
More later...
Labels: Christmas, holiday, new year