The gang that brought us
Mr. Robot
is back with another futuristic offering...
Alien Shooter
has the same 3rd person perspective view as does Mr. Robot... In my opinion the graphics are not quite as good but that doesn't hinder the story or the game play, what does bother me tho it's more me than the game is the control system with the arrow keys, oh well by the time I'm done with the game I should have it down... hahahaha One thing I see that doesn't hinder the gameplay at all is all the "Clipping" of objects and the weapons and your characters arms when they sometimes go right through walls and other obstacles, I'm sure the developers can fix their collision detection without any problems... It's a fun Shoot'em Up anyways...
So without further ado here's a Screenie and Link to the game...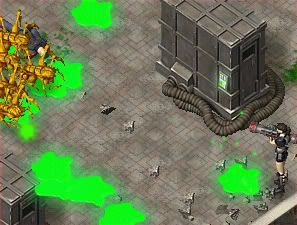 Alien Shooter
Don't forget to check out
Mr. Robot
also... It's a fun adventure/puzzle game and the graphics are killer...
While I'm on the subject of the Future, Space, Aliens and such I'm sure none of you could live without some of this Alien Movie inspired furniture for your lovely house, it'll go good with that giant "Predator" Blow-up Doll you have in the entertainment room... hahaha
Check it out, it's pretty incredible workmanship but the price is out there for sure...Clicky linky
Alien Furniture
...
Speaking Games, some wacky guys got together to stage a real life Donkey Kong, err "DICO KONG" with some funny results... Check out the linky
DICO KONG
...
And then since I am into finding weird things I thought I "Almost" seen it all until now, so check out these weird womans "Heels", they are the strangest looking shoes I think anyone will ever see... hahaha Clicky linky
High Heels?
... Just plain weird...
And last but not least, the "Top 10 Inventions of the Middle Ages"... Since we have made so much progress lately in Technology I kew you wanted to know this.... hahaha Clicky Linky
Top 10 Inventions of the Middle Ages
...
More later
...
Labels: Alien, Creatures, moonpod, Shooter