Yikes!!!! if this is true and it seems it is, 2k Games is in for a lot of pissed off gamers... Sony did this with a few Music CD's and when it was discovered they were in a lot of hurt from the public...
Read more on Sony's Rootkit Caper
...
If you don't know what a "Rootkit" is, well you can't find it on your PC and it is extremely painful to get rid of besides it allows them to take control of your computer anytime they wish... Here's an article over at
Gaming Bobs
that explains it pretty well and what's needed to get rid of the pesky software....
Read more about the Bioshock Rootkit
...
Glad I didn't download the free demo, hehehe...
We put up a "Whole Boatload" of new games on
LifeTime Gamer Arcade
in each category so hop on over an Play a Few!... And stop by
Gaming Bob's
and check out some of his reviews and others things he has there...
One of my new Fav Games on the Arcade is "
Pigeon's Revenge
"... hahaha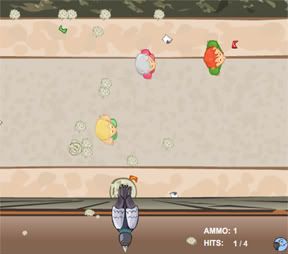 Clicky on the pic to go play the game...

My next new Fav is "iPhone Mystery" where Steve Jobs misplaces all his iPhones and you must search different places he's been and recover them...
Clicky here to Play iPhone Mystery
...
Need a new very small Fishing Reel?, Sure ya do! check out the
Mini Fishing Fish Rod Pen Reel Pole
, don't think you can get smaller than this and still actually catch anything hehe...
Not into fishing Ladies?, well hop on over to Popgadget and check out the
Lotus Flower Table Lamp
, before you fall in love with it check out the price...
Here's an Item I definitely could use,
Color Changing Coffee Lid
... Okay not into coffee lids?, then maybe you would want a few of these
"

Lego Ice Cube Trays

"
for those nights when your drinking heavily and you get that urge to act like a kid and make some strange things out of LEGOS... hehe
More Later...