Well I have now that
Wired
has run an article on two fellows,
Alexander Stakhanov
&
Alexander Vucman
who are restoring as many Arcade Machines as they can... I for one think they are Butt Ugly (the arcade machines not the guys) but if the gaming is good it doesn't matter... Sooo, if you have any interest in seeing the rest of these machines clicky the link and look through the gallery:
Soviet Arcade Machines
, to read the article hop on over here, it's a good read...
Soviet-Era Arcade Games Crawl Out of Their Cold War Graves
... Nice Story by Alexander Zaitchik from
Wired
...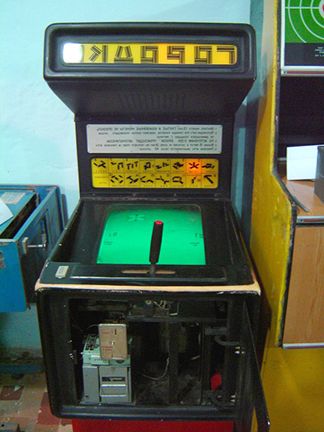 Just ran across this one over at
c|Net
and it shows some of the American Arcade Games from the 80's so you can compare them to the Russian ones...
Linky!
...
Now if you want something else a bit Weird, how about a
Yo Yo Cell Phone?
... hahaha
Gizmodo
has a review of what to me looks just a bit to weird to be carrying around and using and if it doesn't also work as a Yo Yo I don't want one... You can check it out here:
The Yo Yo Phone Concept
...
I often wondered where in the hell people came up with these "LOL Cats" photos with the funny spelling of words and now I know... BoingBoing has a story as to their origins if your at all interested...
LOL Cats
...
Im in ur Internets and tweaking ur filez
...
And who in the Hell does Paris Hilton think she is???... Getting out of serving a Jail Sentence because of health related issues, boy that just tells ya what money can buy...
Link
...
We've also added more games to the
LifeTime Gamer Arcade
so go check 'em out and I have not received a correct answer for the Mr. Robot Contest so it will continue until the end of the month...
Oh yeah
Wil Wheaton
has been writing up a storm again and it's pretty good stuff so pop over there and read what's he's been up to lately...
WWdN: In Exile
...
And now for a really strange and interesting story of Rags to Riches without using your wifes families money because they didn't like you and you wanted to get back at them...
Read more
... I have to say it's a great looking tribute...
I now know I should have become a Teacher... Why you ask? because again they seem to be making the news and having better sex than I am at my age... Hahahahahahaha
Here's the latest Linky:
Glenbard teacher charged with sex abuse
...I have to wonder if these Idiots don't have TV's or read the Newspapers to see how many others in their profession across the country are getting busted for these kind of acts...
More later...