Well I finally got other things done and had time to play this cool game...
After the first few minutes I was reminded of the 1972 movie starring Bruce Dern,
Silent Running
and his 3 lovable robots so that's going to be the base of the 2 questions for the contest but more on that later...
I don't play many 3rd person 3D games but the entire look of this game including the opening cinematics are very well done and consistent from level to level,
MOONPOD
has done a great job with this game... One thing I had trouble with was getting used to controlling 1138 using the mouse, but that's just me hehehe... Basically you have a task or tasks to complete before you can move on to the next section of the ship and they get progressively more difficult as you get farther into the game...
The PDA interface is what you use to look at the map of where you have been and to check your message logs and other things, the map came in very handy since I was so into the game I forgot to keep an eye on what section I was in and a few times had a hard time finding my way back, hehe...
So as not to make this a long drawn out review and bore you with tons of words, I'd just say check out their site and Download the demo to see for yourself what a fun game this is... Get the demo here:
Mr. Robot Demo
...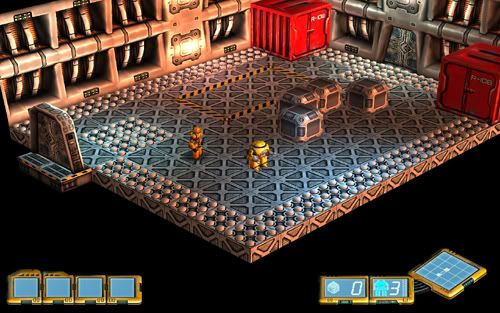 And now "The Contest"...
Holly Rupik
of
MOONPOD
has offered us prizes for the three winners of the contest and they are as follows...
1st Place: CD copy the the full game and a mousepad.
2nd Place: Mousepad.
3rd Place: Mousepad.
So what are the questions you ask?... Well here ya go...
1. In the movie Silent Running, what caused the forest to start dying off?.
2. What was the name of the robot who ended up being trained to care for the plants and then blasted off farther into space at the end of the movie?.
Since the answers to everything in the Universe is on the Internet you should have no problem finding the answers and if you've seen the movie you probably already have them, hehe...
Soooooooo, the Contest will be running from today May 22 until June 10, when we will announce our winners... To enter all you need to do is send me an email to keith[dot]lifetimegamer[at]gmail.com with "Mr. Robot Contest" in the subject line and your answers in the body of the email... The first 3 correct entries will be our winners and they will be contacted by Holly for shipping instructions in order to receive their prizes...
Happy hunting!...
A bit more news is we have added another 200+ games to
LifeTime Gamer Arcade
so get over there and play!... Also there will be a server outage tonight while they upgrade the server which means the site will be down from midnight to possibly 6 a.m. tommorow...
My my, seems something is stirring (as in Jobs) over at
3D Realms
judging by this pic posted on
DESTRUCTOID
via
digg
, I'd almost say it's a
NSFW
type of pic but hey!, it's a PigCop from Duke Nukem Forever so it's okay since it's not a "Human Nude"... hahaha
More later...
Labels: games, moonpod, mr. robot, robots