When it gets to the point of Him/Her criticizing your work constantly there's only one thing to say to them...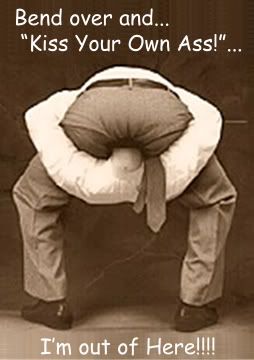 Of course that Guys "Head is Up His Ass, Aren't Most Boss's ?"...
Wanna be a Video Game Tester?... You Do??... Well then check out
Link:

Video Game Testers
... I can tell you it's not as easy as you may think...
Gamespot
is running an interesting article about what MS has to offer for Xbox users in the near future...
Link:

Rewards coming for Gamerscores
...
...Um no thanks I think I will get more satisfaction from the "Cheezy Prizes" in a bag of Cracker Jacks... hehehe
Of course there is no news from
Link:

3D Realms
... about "Anything" Duke Nukem related these days so I guess we can all assume Duke will go down in history as having only 3-hit games and winning the "Vaporware Awards" for 25 consecutive years in a row... well I guess that is something...
And from the "How Dumb Can You Get Department"....
So, there's this 14-year old kid in Mt. Victoria, New Zealand, right? Kid breaks into a house and steals someones Xbox 360 and all their games. Takes the games, disappears.
Link:

Read what happens next, Hahahaha
...
Thanks to 1-Up for that laugh...
Wanna new and different Keyboard for your computer?...
ubergizmo
has a short blurb on the
New offering from Onkyo,

Wavio Aluminum Keyboard
...
That not enough for ya?... Then go check out this one for
Coolest-Gadgets.com
The
Link:

The Pong Dress
...
Not sure about the dress but the Model has my vote 100%... hehe
And for those of "US" that used to play with Glass Marbles as kids, Opps! I mean you older folks... hehe Okay I did, and saw some my Grandpa made from Clay when he was a youngster... Here's a video of How they are made tho at one point that damn thing looks like it's the size of a Golf Ball...
Link:

How Marbles are Made
...
More later...