Hey, it got him out of a lot of tight situations!... hehe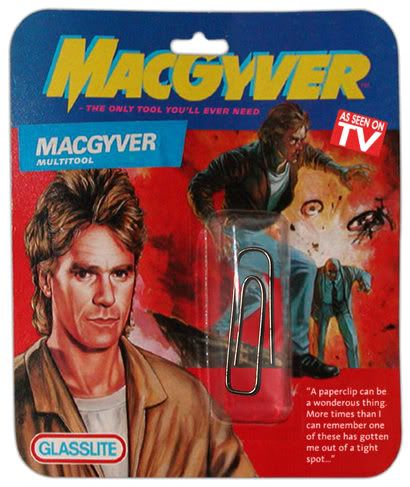 Yeah I stole the image from somewhere I'm just don't remember where, But!...
Do you know who got the Patent for the PaperClip?... Most probably do not so here ya go and it's got some very interesting History behind it...
Link:

Paperclip Wiki
...
If you thought that was "Cheezy" maybe you should check out this
Uber
"Pimped Out John" from Roto-Rooter...
Link:

Pimped Out John
...
Many thanks to
Ubergizmo
for that link!... I'm still laughing... hehe
Wanna new ride?... Well if you got $150,000 or so you can drive home in the Ghostbusters Ecto-1 Car and freak out your neighbors...
Link:

Ghostmasters Ecto-1 Car
...
And if the word "Gross" somehow disgusts you then you may not want to visit this link because it is those tiny tiny little creatures that live in your "Eyelashes"...
Link:

Eyelash Creatures
...
Probably not as bad as those that live in your bed sheets but disgusting just the same... I do wonder what others are out there... Ewwwwwwwwwwwwww!!!
Word for the day, "Peanut Butter, Please Spread the Word!"...
More later...