Well I doubt he got sucked up by the Bermuda Triangle but then again ya never know... Maybe he got hooked on Drugs or something and he's in Rehab...
If ya wanna keep up on him you can go to
GnomeWatch
and maybe if you have info on his where abouts you can pass it along to them...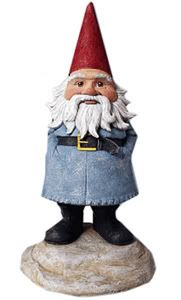 I happen to think he finally met a Girl and is just laying back enjoying the umm, err Sex or what ever they are doing... hehe
While on the subject, if your a traveling man and want to leave the "Wifey" with a piece of your self while your away for weeks at a time you may consider "
Willy Cloner
"
Read more
... I actually thought of something like this years ago, I wish I would have gotten a copyright on it...
Got a Geeky guy in the family that likes R/C Toyz???... Maybe get him one of these "
Palm Size Micro Copters
" and let him play in the house while watching football...
Read more
...
The kids got an iPod and also like to play Air Guitar?... Well maybe get them a "
MiJam Guitar
" and let them plug it into their iPod and play like they are playing the "Guitar Hero Game"... The price is reasonable...
Read more
...
Fido not minding and keeps jumping on the furniture... Then you might consider this "
Sofa Guard
"
Read more
... He'll either learn or go deaf, it spits out a 105 decibel alarm sound each time he jumps up on the item...
And if he's a ready "
Tech Nut
" and has every Gadget known to man maybe get him a "
Technology - Enabled Fleece Jacket
"...
Read more
...
And if there's a
Geeky Girl
or
Lady
in your life that likes that kind of stuff the Ladies over at
"
PopGadget
" may have some ideas on what to get her for Christmas...
Read more
...
Wanna teach the young ones about saving and managing money?, well check out the
Children's ATM Bank
Read more
...
Here's a very useful product I found for most people that hate when one those Christmas Tree Lights has burned out since you used them last... "
The LightKeeper PRO
" does all kinds of things and can keep you from throwing those lights out for another few years...
Read more
...
Need some Video Game Ideas for that Gaming Lovin' Person?, check out
GameStop
Read more
... Or maybe
Amazon
Read more
... Then there's always
Best Buy
Read more
... And
J&R Music
that carries a lot of products...
Read more
...
Last but not least if your having any Issues with your Blog Site I strongly suggest going to "
Blogs Gone Wild
" and contacting "
se7en

", he's solved a problem for me that has plagued the site for about a year...

Read more

... Also take a look at his other site "

Blog Flak

"

Read more

for skins and other helpful tips...



Note:

if the site looks a bit "Funky" you need to do a Refresh (F5) or clear out your cache, this happens with most sites that make a lot of changes and then update...