Hey!, don't blame me a friend sent this to me...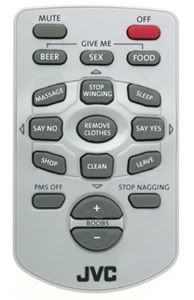 Okay on to the next one, If you want something "Unique" this may be it...
The Photo Rubik's Cube
...
(Read More)
...
Next up tho very expensive if you ask me,
8 new M&M's flavors only available online
...
(Read more)
...
Speaking of Candy, you got someone in your family that just loves "Gambling Away" all the money they have and next months rent???... Well maybe they want some Candy to chew on while they are losing every penny they have ever earned...
Gummi Dice, Gummi Poker Chips, and Vegas Jelly Pops
...
(Read more)
...
And if you need something for the "Parents" that are getting up there in age and their eye sight is not that great anymore here's something you may consider if you have the money to spend...
Pocket Viewer Magnifier
...
(Read more)
...
For that Computer "Nut" and "SciFi Freak" in your life maybe he/she needs one of these, it is what happens when you "
Cross a Cylon with Frosty the Snowman
"... hehe
(Read more)
...

I'll be back with more "Silly Stuff" later... (if some of the candy links do not work try again later, they seem to be on a slow server)... Yes I have a few more "Wacky Ones" to Post...
Okay, this it it or I'll be here for the next few years posting this stuff...
Heard of the "
Beer Belly?
", that wacky thing that hangs on your stomach that you take to the games with you and is full of Beer???... Well, here's a new idea that does the same thing and gives you ass a break while sitting there on those Hard Seats...
SitnSip: Hold Eight Beers Under Your Ass...
(Read More)
...
Fido needs a Christmas card???... "NOT!"... Well maybe, but he's only gonna eat this anyways and won't know what it is...
Bone Idle Cards
...
(Read more)
...
The last two are just Stupid if you ask me...
"
Amazing USB optical mouse with warmer
", well if it cures all your hand problems from playing on the computer for 1,000's of hours I'm all for it...
(Read more)
...
Yep this is Totally Dumb!!...
Battling Sumo Wrestlers for laughs
...
(Read more)
...
For now have a Video Game link, I ran across
Digital Battle
... Enjoy...
I guess it's true, "Girls Just Want to Have Fun" tho this girl wasn't there to purchase a Playstation 3... Hmmm...