Brrrrr!!!!!!!!!!!!!!...

Well now that I'm in a warmer part of the country the "Bitter Cold" won't bother me as much as it would normally... But I spend most of my time sleeping and working in one place in the house that is not heated and instead of buying an expensive electric oil filled heater I am thinking of going for the
Kandle Heeter
... It's a pretty cool idea and very cheap, tho I am not totally sure how well it works but looking at it I can see where the theory would come into play... Check out the pic...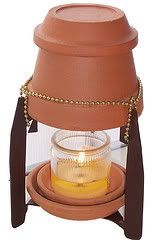 If you go to their site you can see how simple it is and you could probably make one yourself and save a couple of dollars...
Kandle Heeter Homepage
... Check it out!...
Need some Christmas present ideas for that Video Gamer in your family that is expecting some games for Christmas?. You can check out Amazon's List of what's out and what's coming up...
Read More
... As for me I'm still working on finishing the PREY Demo and Quake 4 so I'm not getting any news anytime soon... hehe
I ran across a fairly new website that delivers news on a variety of subjects and decided to start contributing to it, so if your looking for world news, medical news, science news, funny videos and pretty much anything we can think of check out:
Digital Journal
... It's real friendly place and I hope to see ya there...
More later...