Bout time... I have all their Sticks and this one is just what I was looking for...
"
Pittsburgh, PA September 18th:
Xgaming, Inc, a video game peripheral developer based at Carnegie Mellon University's Entertainment Technology Center in Pittsburgh, PA, today introduced the
X-Arcade Tankstick™
, an industrial-grade desktop arcade system which injects an 80's style arcade machine into the home for under $200.
"
Soooooooooooooo go check it out here
X-Arcade Tankstick
...
Oops guess I should have included a pic and yes it's different from the other 2-player since it includes a "Trackball"...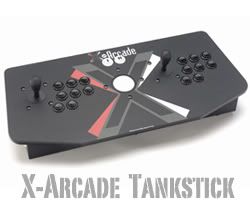 Since we're on some Retro Gaming things here's one I found at Coolest-Gadgets. Remember wasting hours one end playing "Air Hockey" with a friend?... Well, now 3 of you can play with the new *
Tri Hockey
*... Looks interesting tho maybe a bit hard to get used to...
Read more here
...
Lego Star Wars II sells 1.1 Million Copies
already and in a week???... WOW!!!, I may need to check this one out... Of course that's for "ALL Platforms" but still impressive...
Read more here
... Thanks to WorthPlaying for that news...
More later...