I figured we "
The Human Race
" had always been such
Arrogant Bastards
that we needed a
Kick in the Ass
to put us in our place and seeing what I am all over the world today this movie I saw so many years ago just kept coming to mind and slapping me in the face...
I for one wish it would come true, since we can not solve this ourselves and I finally found the Pic from that movie starring
Claude Rains
as "
Klaatu
" and his
Robot
"
Gort
" that would enforce their "
Laws
" that prolly have been around for millions of years and worked all this time for them... That's the "
Kick
" we all prolly need and I mean this... Time is a Funny Thing and sometimes an eye opening thing but those that came before us may just know a
Bit More
than we do... *
Enjoy
*...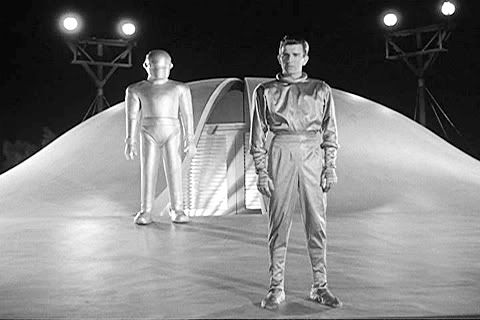 KLAATU
: Your choice is simple. Join us and live in peace. Or pursue your present course -- and face obliteration.
We will be waiting for your answer. decision rests with you.
Steve Irwin
"Crocodile Hunter"... Nothing I can say that already haven't been said all over 1,000's if not Millions of websites... He was entertaining and pretty much a Master of his craft and loved his family, friends & viewers...
R.I.P.
Steve Irwin...
More later...