Found this one over at
Engadget
... Not sure I'd shell out $600 for this "Toy" but it does look a bit interesting...
Read more here
...
If I had had the funds I would have gotten a
SONY Aibo
but I settled for an
i-Cybie
... Cute Little guy huh?...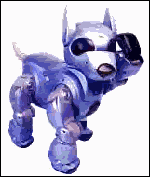 Gamespot
is running more Nintendo Wii News than you can shake a stick at!!!...
Read more here
...
See, "
I Told Ya So!!!
"... Sony Boss Hangs Head in Shame...
Read more here
... Thanks to
MegaGames
for the story...
Wanna make a few bucks playing Video Games???... Well Wired has an interesting article about it...
Read more here
... I'm sure you have to be more than a "Causal Gamer"... hehehe
Think "You" Got What it Takes as far as History, Trivia or Anything Else???... Sure ya do so go here and find out if you really do... hehe
Blufr
... Yeah click that word to the left "Blufr"...
More Later...