I found this guy under my left index finger that I had been using to play guitar for more than 30+ years... I figure these days I should just put the "Finger" up on eBay and see what I can get for it... This pic is from the scanner I figger tomorrow I will if I can get some other Digital Pics since he does look alot more Fleshy and Human in light (seems he closed his eyes because of the scanner)...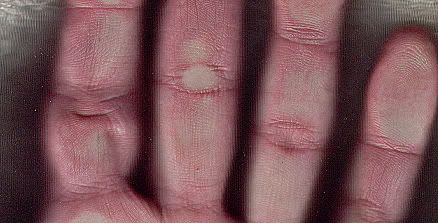 Yeah he is the Guy(Finger) on the *Left* and "REAL!!""... Bidding will start at $1.2 Million since if I sell him it will be really hard to play guitar after that...
And Yes this is a real pic and when not on the Scanner his eyes look to be open... I can and will Certify that Photoshop and no other editing programs were used on this pic... It is as "Scanned"...
More later...