Yep the "Old Fart" and I are on our way to a wonderful time off in the great places to be other than boring Cities...

So sit back and enjoy yourselfs cause we will be back in a couple of weeks with more of our useless info and other kinda cool stuff that we find... No Cameras on this trip so no gory pics of Poor Little Worms Getting Hooked or the *One that Got Away!!!*, or the Chicks that didn't happen to get away... Hahahahaha...

Hmm, I smell hotdogs being cooked over an open fire, better go for now...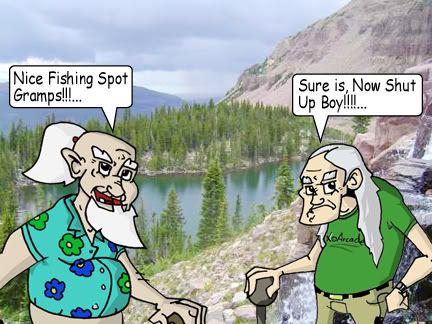 Visit some of our friends while your at it... From my Travels on the Net...

Arcade Top Sites

, more Online Games than you'll ever be able to play... hehe



Got Game Lag???

, maybe this is your answer:

LagMeter

... I haven't tried it yet and it's still in

BETA

, you all know what that word means but what the heck "

It's FREE!!!

" for now...



Got a Website???

, Wanna know if it Sucks or Not???... Well get your butt over here and find out...

Does My Site Suck

... Umm did I already post this???, no matter it's a Cool Website and it should be a

Cool Site of the Day

if it isn't already... hehe

Seems an

Old Friend

by the name of

Wil

is trying to put one over on us... Nice I had his site Bookmarked and awaiting his return (of course the Fan I am I was checking it out nearly everyday to see if it was fixed and then going to his *Secret Hide-Away Site* to catch up on his Real Life)...Alas here is the Start of Something New

WIL WHEATON dot Net: Version 1.5

... His old site that died finally found new life after he found out *The cute little code error* that usually hides from most of the best of Webmasters lurking and

Wil

Promptly Killed it...



Wil

I salute you and my guess is:
WIL WHEATON dot Net: Version 2.0

, is going to Rock Everyones Socks Off!!!, and if it don't I'm selling my stocks in it

ASAP!!!!

... hehehe

Oh Wil!!!... Fix your Favicon for the new site, the old one doesn't quite make it with the New Look of the Site...



I really do hope that from all those who have gone before us,

Maybe a Tiny Bit of Knowledge

has been passed On...

More later...