Or should I just have said a *

Night at the Topless Club???

*... Sometimes the

Old Fart

&

Duke

think alike tho dragging that kid along sure was a mistake... hehehe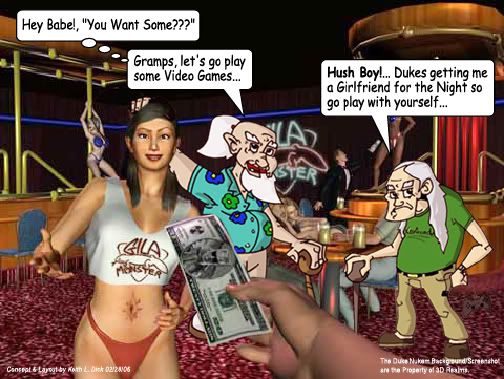 Well there are more to edit from LifeTime Gamers Interview with Duke so I guess I'll get back to it...(Yes Yes there are more Cartoons in the Archives if you need a look... hehe)...

Just found this one... The Guys over at

Xgaming

have a new

Arcade Machine

2.0

they just came out with... So if your an Arcade Nut go check it out... I haven't seen this one up close but from the pics, description and Their Reputation, I'd say it's

Built Like a Tank

and

Virtually Indestructable

just like all their products are...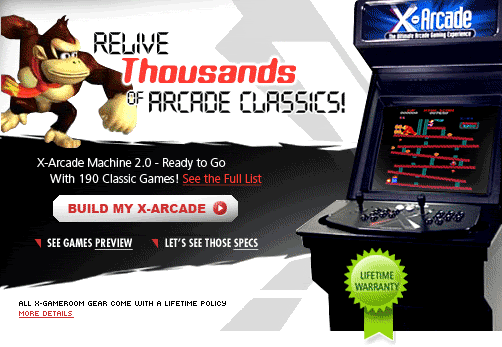 I like the fact it comes with

190 "Licensed" Classic Games

... You can read the rest of the Specs at their site so have at it... And of course it comes with their "Famous"

Lifetime Warranty

, no others in the industry offer such a deal...




Another One Rides the Bus, And Another One Rides the Bus!!!

... Opps I was having a *

Weird Al Yankovic

* Moment there, Sorry wrong song & story... Hope

Freddie Mercury

isn't Rolling Over in his Grave over this... Okay you can have a Link to

QUEEN

Online if you must... I would myself like to see them with

Paul Rogers

on Vocals but that will prolly never happen and really without

Freddie

and all those guys it would have not been Queen... Freddie I also miss you like many millions of others, what a treat Queens Music brought to us Musicians... Thank You...

Here's the Real Story I was getting at!!!...

Another Sony Format Bites the Dust

...

Now this news is some of the best I have shared and I hope Governments all over the world let our & their Scientists continue on this line of research... It can save alot of people even those

Idiots

in Power that should not be... *

So Behold the Wonders That We as Humans Could Do for the Good of the Human Race

* only if they were not tied to the "

Powers that Control Money

"... Okay I just should have said... *

Those that are Greedy!!!

*...

The future is out there, only if we can reach it...

Lab-grown bladders 'a milestone'

...

You people have a choice, you should make it...

For all my Blogging Friends and just people who like to Blog, there's a nice new site similar to

Digg

that's just for Bloggers like us... hehe... So go check em out and look around... It's where I'm going right now...

Catch My Blog

...

Speaking of

Bill Gates

... Hmmm, no body was speaking of him, oh well I ran across this little ditty over at

Slice of Scifi

...

Doctor Gates?

, seems Bill will be in an Episode of the "New"

Dr. Who series showing on UK TV

playing himself none the less and revealing his

Dark Side

... hahahaha... You better read the original story here, this could be a Joke ya Know...

Silicon.com

... Well Billy Boy!, I'll make you a deal right here and now... You release a *

Bug Free Windows OS

* and I'll watch your episode and I'll through in a Bonus, I'll watch any show your on everytime it is aired for the rest of my life if you can do that one little thing, "

Deal or No Deal Gates?

"... HAHAHAHAHAHAHAHAHAHA!!!!!!

That's one Deal I know I'll never have to live up to... hehehe

Later