Well after a few Phone Calls and some difficult scheduling they got together on one of the "Old Sets"...

I'll let the Old Man tell it like it is... hehe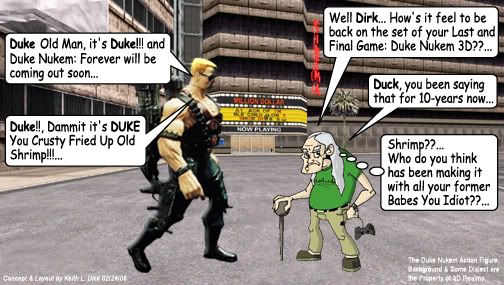 Our new *Lara Croft - Tomb Raider*.... I gotta say she looks great but can she act???... That remains to be seen I guess... Take a gander here, just remember to pick your jaw up off the floor when your done...

The New Lara Croft

...




Deal or No Deal

... Just caught a glimpse of this one while at a store... I'm happy

Howie Mandel

finally got a great show to showcase his talents... I always liked him as a Comedian...

So "Clicky" his links and enjoy yourselfs...

And "

The Sad News

"...

Don Knotts

...

Darren McGavin

... &

Dennis Weaver

...

All will be missed & all were part of my growing up... I wish Kids these days could have such Good Roll Models... They may not have been perfect, but on screen they gave their best to portray what is best in the Human Race... I just hope others will follow their lead and not let this image die...

What do "Laser Hair Removal", "Home Loans", & "Tax Lawyers" all have in common????... Good question but they seems to pop up alot lately in searches... hahahaha



OMFG!!!

... I think I have seen it all "

Skateboarding Dog

" ...

Is "

Gary Glitter

a *

Wig

* and nothing more?".... It's up to you to decide, cause I never liked any of his crappy music.... hehehe

Don't forget to look at the Pics...

His future is decided here so go read it...
Glitter jailed for abusing girls
...


Later...