That's exactly what a few of my friends did earlier this month along with United Local 1448 & Lear Corp. with lot's of support from

WIOT 104.7 FM

...

Seems the

WUZZ Band

like helping people and the two remaining members along with alot of others got together and put on one Hell of a Show this month on the 10th... It was the 6th annual "

Rock N' Roll
Christmas Benefit

" .. Benefitting the "

Kids

" of the

Village House

in

Fremont, Ohio

...



Jim Hilt

&

Randy "RC" Cress

of the Wuzz Band along with

Joey Gaydos, Sr.

(This Guy Smokes) on guitar going under the name

Geezer Rampage

plus the Bands

Mr. Bone

,

Noize Monkeyz

,

Mourning Wood

,

Rude Mood

and the Headliner

Joey Gaydos, Jr.

and his band... You might remember Joey Jr. from the Movie "

The School of Rock

"...


Well unfortunately I had to miss this show due to being under the weather but from the reports I got it was an Amazing Show... And here's just one Pic of

Geezer Rampage

onstage...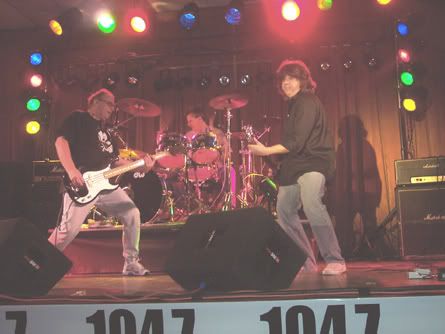 Left to right: Randy "RC" Cress on Bass Guitar, Jim Hilt on Drums and the ever "Mr. Entertainer" Joey Gaydos, Sr. on Guitar.



Have to tell ya, if you ever get to see Joey Sr. play you will be entertained ever minute you are sitting or standing or dancing... Best Guitar Player *Live* that I have seen in many many years... Sorry I missed the show guys!!...

So if your sitting there and wanting to make yourself a bit more cheerful this holiday season why not buy a decent Toy or some Food and donate it to your local charity or charities, cash works also ... I'm willing to bet you will feel alot better knowing you helped someone this year that may not have had anything if it wasn't for your kindness...

Jim got me a shot of Joey, Jr. onstage so Enjoy!.....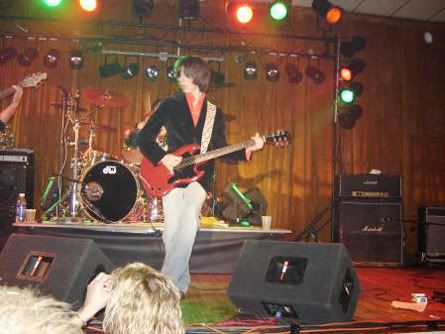 ...and

Your Still in Our Hearts,

Brother Bill

...

From My Travels on the Net

360 Insider

... Enjoy!!...

Later...