Can't beat this with an ArcadeStick!!!... Or can you??... hahahaha



Pittsburgh, PA, November 7, 2005 – Xgaming, Inc, developer of high end video game hardware for PC, Mac™ and game consoles, announced a $20 price drop for it's best-selling X-Arcade™ Dual Joystick. In North America, the new retail price will be moved from $149.95 to $129.95 and reflects the lowest price the award-winning joystick has ever been available.
The X-Arcade™ provides a complete home entertainment solution for the entire family by converting a home game console, PC or Mac™ into a standalone mini-arcade. "The X-Arcade™ is ideal for nostalgia-seeking gamers looking to relive their favorite classics and serves as the centerpiece of an ultimate home arcade experience," stated Shawn Walters, President of the Pittsburgh based-firm.
Recently featured on
HBO's Entourage™
,
ABC's Alias™
and numerous "holiday-gift guides" the
X-Arcade™ Dual Joystick
first launched in the USA and United Kingdom for $199.95 and has received the praise of
industry experts
for delivering an authentic arcade experience for classic and next generation games. The holiday bundle includes connectivity to a PC and game system plus 6 full version arcade games;
Gauntlet™
,
Defender™
,
Robotron™
,
Joust™
,
Rampage™
and
Smash TV™
...
Enjoy...
From My Travels on the Net.

Amdgamer

...

Think I'll pop one of "My Comics" in here since I just checked the

3D Realms Website

and as usual there is no news of any kind about

Duke Nukem Forever

...

I guess we'll never see this game which makes me mad since I've been waiting for it since it was announced... Good thing I got other things to do like make Cartoons like this... hahahahaha

Guess I better find some more material and just keep posting a new cartoon every month until the game comes out... Of course I may not live that long at the rate the game is taking to finish...

You can find some of my other Photoshop Parities over at

Tommy Tallaricos Site

... Specificially in *

HERE

*... It's my take off on the Will Smith movie "iRobot" with Tommy as the Lead.... You'll have to look for it amoungst the others... Titled: "iTommyThe MovieG4"... On page 2 is the one below plus another for the Movie iTommy...

Again, Enjoy...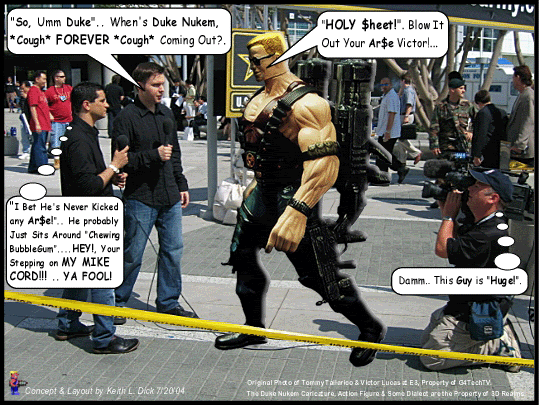 Yes Boyz & Girlz!!!, your more than welcome to *Comment* in the

Comments

Section, just look under the Recent Posts before the Older ones...

Spam will be dealt with as it should be anyways.... hehehe