You will be missed by so many.....


..... We Love You!!!

We knew this was going to happen soon. Dad had skin cancer years ago and it came back with a Vengence, this time it became a tumor that grew into his Left Lung and collapsed it... The lung was filled with cancer and he was given a few days to maybe a month possible two...I stayed with him for the past 3-weeks and took the best care I could of him...

Dad was 88 and lived a full hard working life, He had said on ocassion that he was amazed he had lived this long but he was ready to go... Mom had passed away from Colon Cancer in 1991...

The last 48 hours were the worst of my entire life... He was rapidly going downhill and had near death syndrome, I think that's what they call it... He couldn't sleep or get any rest and was starting to see things... Once we got him sedated he was getting some rest but a few hours later his last lung started to fill with fluids and all I could to was to give him more of the drug to keep him comfortable... I gave him a dose around 2:00 a.m. and went to rest in the living room because we had to give him another at 6 a.m. and then the Hospice Nurses would be here and check him out...

Around 4:55 a.m. he was making alot of noise from his throat and it seemed it was getting worse... He stopped breathing once for about a minute then started again... At 5:00 a.m. He passed away...

I want to thank his long time friends Dodie & Tony Pomerson, Erve Shufelt & Barb & Rich Hawkins who spent alot of time with him over the years and who were the best friends anyone could ask for... They all helped so much when he was in his final days and hours... And to all the Nurses and Staff at Hospice and others that cared about my father...



Thank You

.......

Dad taught me alot when I was growing up and I wish I had been back home more often over the long years to spend time with him... And I have to tell ya, when I was bad I got *My ASS Beat*, something that the young parents of today outta do, there would prolly be less crime and less dropouts and losers if they knew how to raise a child...

I could fill a hundred pages about Dad but I won't... Maybe someday if I ever write my book I will have alot of great things to say about the man who helped raise me and put a roof over my head and basically took care of me along with Mom, my Brother and Sister...

I need my time by myself to reflect on this and hope anyone that ever chooses to care for a parent or parents at home when they only have alittle time left, have the courage to be strong and do everything in their power to make those they love as comfortable as they can in those final days and hours... And don't forget to tell them you Love them every second you can because they could be gone in a minute and you would never have another chance..

I made the choice nearly 2-years ago to leave a very good job and alot of great friends to come home and spend some time with him to try and make up for the lost years... I am so Very Glad I was allowed this time with Dad...

All I can say now is, Dad I Love You and I Miss You so Much...

I want to keep this going for a time, because it is helping me deal with my Fathers passing... I am adding the Obituary from a local newspaper and I will be adding a picture of my father as soon as I find one that is suitable... I know none of you that ever visit my site knew or met my Dad or knew what kind of man he was, but I want to share a very important person in my life with as many people around the world as I can...

There was a very famous line from a Star Trek Movie that has always stuck in my mind... I think the movie was *The Search for Spock*... The scene was near the end where Captain Kirk's Son David entered his quarters and told him he was proud to be his son, which I am very proud to be my fathers son... The other line is another thing David said to his father that I thought appropriate:

*

How We Deal with
Death
is as Important as How We Deal with Life

*...

I think I quoted that line correctly, if not I think everyone gets the idea I am trying to get across... I wish to thank all of you that take the time to read this and hope you will maybe post a comment in my comments section below so in hopes that wherever my father is now he will know that there are people in this world that still have some compasion and humanity left to share even with people they had never knew or met..

Just click on the word *

Comments

* to the right of my name and you can leave whatever you wish....

Thank you, to all that have already posted a comment and thank you to all that may...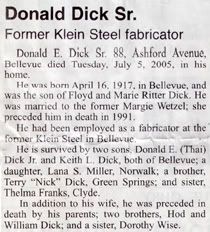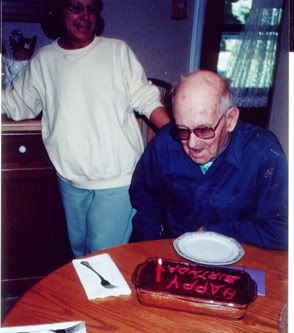 (A photo at last!!!... Dodie & Tony Graciously Let me borrow a picture of Dad on one of his recent birthdays... I had one of him and Mom but it was lost)..

What was left out of this Obituary is the fact that Dad is also survived by 5-Grand Children and 5-Great Grand Children who loved him and also a coupleof them had never met him...