Well, if none of you are from the kinda Northwestern side of Ohio near

Toledo

and specifically

Fremont

and a bit of a freak from the 70's, 80's, 90's & beyond you wouldn't even know who this Band is...
Me, I was already on the Road with my bands a few years before that and gone from Ohio until 2003... Kinda tells you how old I am right??..
NOT!!!!... hahahaha..
So anyways back to the

WUZZ Band.

..Last Friday & Saturday Night I got to see some Local History that I wish I could have shared in, I did get to share a very Tiny Bit by being at this Benefit Jam for Brother Bill..
William T. Saddler, aka. Brother Bill

passed away a few weeks ago... Sorry but I'm trying to remember alot of this just from seeing it and not really knowing who all the players were and I only know the History from the Excellent Slide show with Video that their Bass Guitar Player

R.C. Randy

(??) had put together for this event..
Brother Bill

could be picked out in a Crowd from 5-miles away... He had that Look, Kindness Professionalism that only a Few Musicians have..
The

WUZZ Band

that I did get to see for the first time in my life about a year ago was at another Benefit for yet another fallen musician, I think his name was

Manny Ortez

or something like that and a

Bass Guitar Player from Clyde, Ohio.

. The Band was:

Brother Bill

- Guitar,

Jim Hilt

- Drums &

R.C. Randy

(someday I will know his last name) on Bass.. This

WUZZ

Band was what it

WAS

all about..
Playing Music, Having Fun, Family, Friends and ALL Things that go with it.....
This was:

The Band WUZZ

..
I am so Greatful I got to spend those two nights at the

Rainbow in Fremont, Ohio

seeing how locals Love & Respect the talent that was spawned from their area.. I only hope that someday that could happen to me..
Thanks to

Jim

(That Drummer Dude)

Hilt

for Inviting me, and I know someday You and I may play a few Gigs together and many Good Wishes for the New Project that you Showcased at

Brother Bills Memorial Jam

...
I have to end with,

MAN!!!

there was So Much Talent ThereI was kinda wondering if it was not going to go on

24/7 for a few week

s and just not these two nights.. hehehe..
I never met You

Brother Bill

, but now in My Heart I wish I had.. Peace to you and I know your Still Rocking with all the Greats...
Thank You for being a part of Everyones Lives!!!

Brother Bill

...
Well I knew I would forget one other important name:

Danny Bagel

y... I had the honor & priviledge to play one nite with him in the late 80's at Tina's Cantina in Bellevue, Ohio (My Hometown, hehe)... Danny was another great local artist and one hell of a good man..
We miss you also
Danny
...
Okay, My Blogger Editor went Nutz last nite and I lost alot of this Post.. So I'll start again..... hehe
Saturday nite at the
Memorial Jam for Brother Bill
a Guitar Player from Detroit showed up and besides basically stealing the Whole Show he Blew Everyone Away...
I haven't seen a Guitar Player that good in many many years.. Well it turns out it's
Joey Gaydos, Sr
. I asked
Jim Hilt
about him and it turns out one of the Bands he was in was:
Cub Koda & The Points
. You'll remember
Cub
from the
Band Brownsville Station
and their hit
Smoking in the Boys Room
...
Well what else I didn't know until I searched the Net for info on
Joey Sr.
is his son
Joey Gaydos, Jr.
was the Guitar Playing Young Man in the Movie:
School of Rock
...
Now that is very cool.. I have never seen the movie or heard
Joey, Jr's. CD
but I will soon..
Here's a Picture of
Cub & Joey, Sr.
..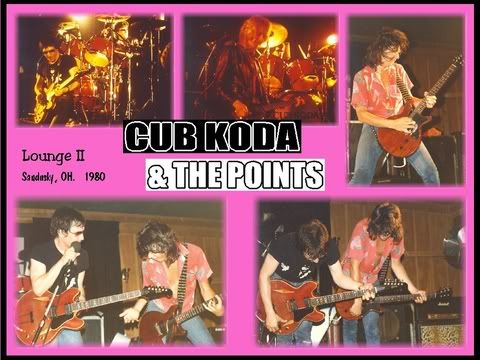 Rock On my Friends!!!!!! and click on some of the above links to find out more.. hehe


Oh yeah I forgot,

J

im Hilt

plays

Spaun Drums

... :)



If anyones wondering, I'm Powered by:

Marshalls

..... Lot's of 'em... hahahaha



So I'll leave ya with a Video Gaming Link on this *Note*..





From my Travels on the Net, the Random Game Site of the Day:

Gamers Alliance

.. Enjoy..





C-YA





Keith