Friends and Friends I have Online in the Forums have been asking me to post some of My Bands Songs, so I will.. These three songs come from the CD I did with the Band in Los Angeles, you can see the CD Cover on the left side of my site..
All the songs had been on the Radio in L.A. at one time or another and Nationwide on A.M. Satellite Radio. You'll notice the Funny Title" of the second song.. Our singer had a strange sense of Humor, hehe.. I was hoping we would have gotten the time to record another of his "

Witty

" Titled Songs: "Donkey Lovin' School Girls", that song kept me in "Stitches" everytime we played it.. hahahaha
So if you like "Classic" Sounding Rock Enjoy!..
Soldier of Fortune
Ho Lee Kow
City of Angles
Note: There is a 10 second delay before the 1st Song Plays.. I have no clue why!.. hehe
All three songs are on the same site so clicking any of the names will get you to all the songs.. You cannot download these MP3's for Free, you can just listen to them.. If you wish to purchase a *Copy* of the Entire 7-Song CD click under the Band pic on the left... We can Haggle about the Price.. hahahaha

If your into Independant Bands or Up & Coming Bands, visit my friend Rons' Site: Unsigned Band Web.. You won't regret it

IMHO

... Lot' & Lot's of Great Music There!!!..

P.S., he's the guy that let me put my songs up on his site.. hehehehehe

Rock on!!!!!..

Just for some *

Nostalgia

*... I ran across this Pic of my 1st real Band.. hehehe
I'm not EVEN going to tell you all what year this was!!.. hahahaha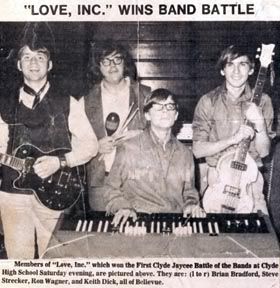 From my Travels on the Net, the Random Game Site of the Day:

Planet Doom

.. Enjoy..

C-YA

Keith

P.S. Don't forget to check out the Archives for -The Old Stuff-