That New Video Game you are Dying for??.. Hmmm, maybe

Half-Life 2

or

DOOM 3

?.. For me nothing, I still can't find a Freakin' job after nearly 15-months, that means I also can't buy anyone anything.. I did have a couple of interviews that never panned out (Typical) in this Jobless State of Ohio..
Oh well, maybe next year. Besides that my old Pentium-3 800 Mhz computer couldn't handle any of the new games out there anyways.. *Big Sigh*.. Ho Hum..

Any of you know what's *Round on both ends and high in the middle??*

oHIo

!!!

, you sillies..

So on too bigger & better news... Hmmm, there is any bigger & better news???.. I don't think so !!!!...

Well I guess it's time for another of my *Duke Nuken Cartoons*.. Last one for awhile until I get time to think up more.. Job hunting is taking all of my time.. Oh yeah you'll get your usual *Random Gaming Link*.. I need to start looking for more after I find a Real Job.. hahaha.. Cheers My Friends & Happy Holidays..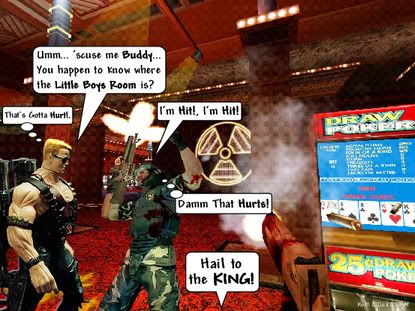 From my Travels on the Net, the Random Game Site of the Day:

CubeDomain

Enjoy.


C-YA

Keith

P.S. Don't forget to check out the Archives for -The Old Stuff-