My God was it cold today... 4-degrees when I came home around 9-p.m... Last nite I was up late and it was raining, when I got up this morning there was snow everywhere..
Oh well I get to spend another winter here, which I really wish I was somewhere else right now... Still no job and to top my holidays off, my computer totally fries every board in it and my car was hit while in the driveway... All within 2-days... There is no hope for my computer but atleast I had some of the stuff backed up on CD's... My car is another story, it was *TOTALED* by one Body Shop and nearly 50% Totaled by another... And I wasn't even in it!!!!!!!!!!!!!!!!!!!!!!!... Damm... It's still driveable but the front end looks like CRAP!...
Alas with no money comes no new computer (using my brothers laptop until I get one), the car on the other hand hopefully will be fixed by the guy that hit it because I need wheels in order to find work!!!..
On to other fun stuff... I'm still amazed in this day & age of *Technical Wonders*, we still have not found the cure for *BALDNESS* or *DEATH*...
Here's a fun Christmas Computer... Yum Yum!!!.. I found that pic at this new site *BoingBoing* that I stumbled across on Wil Wheatons site... Speaking of Wil, that *Little Shit*, Umm I, mean Really Cool Actor/Author never returns my emails, tho I have spoken to him a few times... I guess he's busy with work and his BLOGS...
So Will!!!, if your reading this email me, we'll have lunch... hahahahaha.. Oh yeah how does Drew like the X-Arcade I sent you???... It was Drew you gave it to wasn't it??... Drew of course if the founder of *FARK* a great place to get a laugh and some news...

Well for some gaming news, I'll have to check my sources... hehehehe... Hmmmm here's something I already knew, I wonder why it took someone so long to post it on a news site...

Courtesy of Slashdot Games.. *Game Industry Bigger Than Hollywood*... Don't know where the guy that wrote this has been but I knew this a long long time ago... I really wish I had gotten in on the ground floor with one of those gaming studios like 3D Realms years ago, cause I'd be sitting pretty these days... hahahaha...
OMFG!!!!!!!!!!!!!!!... Web Translation: Oh My F*#king God!!!!!!!!!!!!!!!.... I almost forgot my favorite Christmas Time, All Time Cartoon Character...
Snoopy!!!!!!!!... Who can forget: *The Royal Guardsmen* 60's song, *Snoopy's Christmas (Snoopy vs. The Red Baron)*...Come on!!!, who forgot that???... hehe...
Well here he is in all his glory......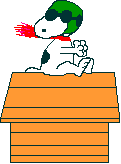 From my Travels on the Net, the Random Game Site of the Day: BH Legend Enjoy.
C-YA
Keith
P.S. Don't forget to check out the Archives for -The Old Stuff-