Boy am I hating the rain around here.. Hopefully I'll find work way down south like in Florida or something.. Anyways onto the Spyware, etc. programs everyone should be running these days.. The first one SPYBOT will search your system for nasty spyware and other things.. Just click on the links to download these various utilities, I'm sure you won't be disappointed and remember these are all FREE!.. and if you like them and they help fix your problems then maybe you can donate a little to the Authors efforts.. Anyways back to Spybot, go to the link and read up on it, then look for the "FREE" version not the trial version, because the trial version will only last a week or so.. The next one up is SPYWARE BLASTER this nifty little program basically does it's best to protect your web browser from ever getting any of this needless junk.. AD AWARE SE is another that will find Spyware and is also needed because not one of these will find everything on your computer.. STINGER is from McAfee and another must have.. A SQUARED finds mostly Trojans, Malware, Back Doors, etc. and another must have.. Don't forget to read up on these..

Note, You should Run all these programs in "Safe Mode". If you do not know how to get into safe mode you can use this link to help you out.. Booting into Safe Mode ..
Now on to Anti Virus Programs.. Just like spyware programs each will probably find things the others don't.. Again these are all FREE.. One thing about Anti Virus programs I would recommend on having one installed on your computer at a time. I have heard good things about all of the following programs from various sources and I chose AVG as my main one.. You can pick which every you want, they all work..
Or you can stick to the ones your using, but to be safe make sure you keep all your programs Up-To-Date..
Here they are: AntiVir AVG AVAST BitDefender .. Again read up on them and then you can make a choice.. There are also a lot of "Online" Virus Scanners that you can use, but I would never pay for any of them.. Read up on these, you can always click to go to their homepage and then come back to these links later if you decide you want to try any one of them.. Again Run these in Safe Mode if you can.. And if your using Windows XP you need to turn off "System Restore" so the programs can get any of the Viruses that have been backed up.

This is how to turn off System Restore and turn it back on buy doing the exact opposite.. Turn Off System Restore ..

Now to the Tech Site that will be helpful if you every start having problems you just can't fix or figure out.. This is where I spend my evenings learning and sometimes offering help for things I know the answers too.. The site is G4TechT which is G4 a 24-hr. a day Video gaming channel & TechTV a 24-hr. Computer channel.. Basically they merged into one and provide both now on your TV Set.. The Forum where you can get the most help is Tech Support .. The other Forum is The Screen Savers which is more laid back than the Tech Forums so you'll see non-tech related posts on there.. You will have to sign up to be able to post questions but again it costs you nothing.. One thing I must stress here is that you need to read this thread before you post any kind of a computer problem READ FIRST BEFORE YOU POST.. After you read this you will be better able to describe your problem(s) and that will help the online techs better answer your questions and get you back up and running all that much sooner..
Geeze I forgot about Firewalls.. Windows XP comes with one but it really doesn't protect you from outgoing nasty programs very well.. So look at these and find one you like..

Sygate Tiny Personal Firewall ZoneAlarm (my Favorite) and Outpost Firewall .. Remember to look for the "FREE" Home Editions or Personal Editions of these..

Well enough of the tech stuff.. Here's another Cartoon.. Enjoy..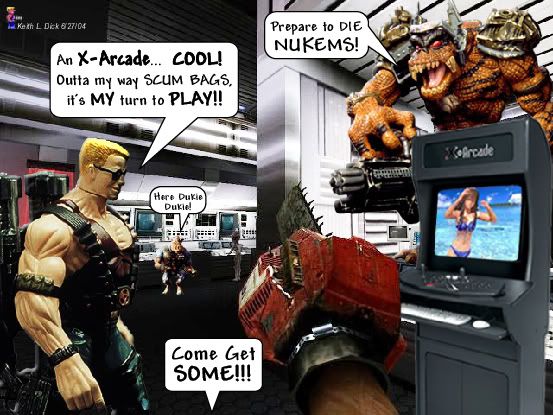 And now for some Gaming.. Hmmm..

From my Travels on the Net, the Random Game Site of the day: Gamers Mark Enjoy.

C-YA

Keith

Don't forget to view the "Archives" for older stuff.