Welcome to LifeTime Gamer and enjoy your short stay since I have done nothing here yet.. One thing I do plan on doing is including a "New" Gaming Site link each time I post so you guys will have something to do if your bored with reading or do not want to read at all.. hehe

Since I do have around 200 game site links I figure that will keep you guys busy for awhile. These sites will cover all things gaming and I may include a few "OverClocking & Tech Sites" just to even things out. There will also be other sites of interest, such as Science, SETI@Home, and whatever..

I guess I will start out with one site, of a person I have never met but have spoken to through emails and I consider a great guy, also he's an "Actor & Author"..

Ladies and Gentleman: Wil Wheaton (I still think DATA on TNG was trying to be his big brother). haha...


BUT!!!
for your enjoyment until I get time to think this whole thing out, I'll include some of my Cartoon work.. There are a few more that I will post in the coming weeks.

Tommy & Vic from G4TechTV's "Judgement Day" with the MAN: DUKE NUKEM himself. Which by the way seems to be still Alive & Well and coming to a PC near you in the future.. (After all these years)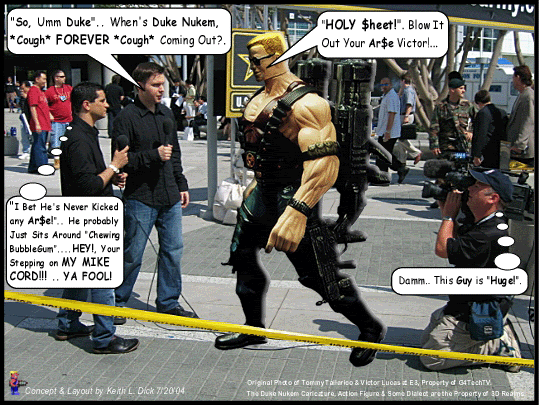 And of course things will change as I learn about this wonder medium called: "BLOGGING"..